Training aids
Helping paws offer help to the disabled and try to integrate them into society. In addition, they are working to change laws in the area of ​​care for the disabled and their access to public spaces. And last but not least, they promote the idea of ​​international cooperation in the field of training assistance dogs and quality standards. In the last mentioned area, we have achieved one great success in recent years.
During an international conference in Belgium, we met with Dr. Roger Mugford, the inventor of the Halti dog halter, which pleasantly and safely solves the problem of excessive neck contraction in too temperamental or problematic dogs. Auxiliary paws use halters in the training phase and also purchase them for children's clients or people with a weaker grip. Halti halters allow easy and safe guiding of the dog next to the pram and allow gentle pulling so that the dog responds to a command or change of gait.
Halti halters were created thanks to a combination of Dr.'s aching backs. Mugford and the training of a particularly aggressive Irish wolfhound named Ben, which Dr. Mugford in charge at his Animal Education Center. The company specializes in solving problematic animal behavior and since 1984 has been developing aids for dog training.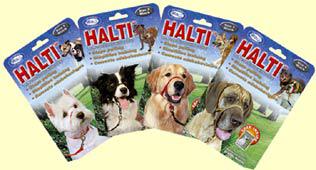 Dr. Roger Mugford donated training aids to the Helping Paws worth CZK 6,000.