Jiri Tomasu and his wife Olga
Mr. Tomasu is one of the three founders of Helping Paws and is also the primary trainer. After much experience training dogs for the military and Czech Union of Blind and Partially Sighted, he and his wife Olga founded their own Guide Dog School in 1989 right after the Velvet Revolution. Since, the Tomasus trained over 50 guide dogs, successfully helping blind people every day. The Tomasus also have their own breeding station of Golden and Labrador Retrievers called "BRI-COL." Mr. Tomasu is the Regional advisor for the Retriever Club for Southern Bohemia. In May 2000 Tomasus trained the first "prototype" assistance dog for disabled – their breeding Golden Retriever Loyza (photos). In August 2001, under the "flag" of Helping Paws, they completed an unprecedented pilot program, training 4 assistance dogs for clients. More dogs are currently in training. Mrs. Tomasu, in addition to training, manages the client training and handles accounting for Helping Paws.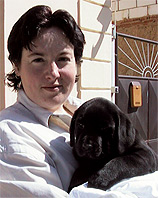 Hana Pirnerova
Mrs. Pirnerova breeds Labradors since 1989. Over 200 puppies were born in her breeding station named "From the Goddess of the Hunt" (Z bohyne lovu CS). Unlike the prevalent "puppy factories", that give breeding such a bad name, her puppies are born in the "nursing room" directly in Pirneru's home. The little fuzzies are born "into hand" and then stay in close contact with caring human hands from their first breath. Not only are they measured, weighed and vaccinated, but also carefully handled and lovingly pet. All this care shows later in their character and relationship to people. Mrs. Pirnerova uses her experiences from breeding as the regional advisor to Retriever Club in Western Bohemia. She also gained many experiences as a puppy raiser and 14 of her puppies are now guiding blind people, while other of her dogs work in special units of police. As a founder of Helping Paws, she takes the heavy burdens of main breeder, puppy raising coordinator and also fundraiser. She oversees the educational and promotional activities, coordinates the work of many volunteers and focuses on client care. Photo with Polly, her new breeding hope.
By no means is Helping Paws an organization of a handful of people. As with every non profit organization, we have two boards of directors overseeing our activities – an Executive Board, which gives the directions for future and a Supervision Board, which controls the accounting and makes sure we stay focused on our original goals. Both boards have a director and two board members. But even our board members don't stay passively "advising." All these unusual people contribute with their expertise from fields such as – law, economics, film, Internet, fundraising and, of course, canine expertise.
Most of all however, we are an organization of volunteers who daily take care of our dogs or clients, organizations, financing or awareness programs. It is those volunteers, who help us make this whole project happen and it is them we must thank before all!